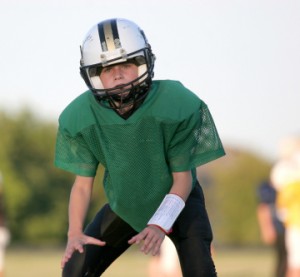 The American Journal of Sports Medicine recently published findings by the National Center for Catastrophic Sports Injury Research that suggest an average of 12 high school and college football players die each year in incidents related to the game. The most common cause of death was brain injury. At TryMunity, we want to promote head protection and sports safety for athletes of all ages.
You Don't Have to Be a Pro to Get Seriously Injured
Head protection is important for children and adults, even in a casual game of tackle football. An injury sustained at the local park is no better than an injury sustained on the field. Also, adults are not more or less likely to sustain a head injury while playing football than teenagers. Wear a helmet that fits well when you play contact sports, no matter what the venue is.
Lesser Known Benefits of Football Helmets
Proper head protection can do more than reduce the chances of serious brain injury or even death. Wearing a football helmet can also help prevent painful dentist visits and even more painful dental bills. Keep your jaw safe from a stray elbow, and don't end a game with a trip to get your nose reconstructed. Kids and teenagers might whine about wearing helmets. Don't give in. Keep your kids safe as well as other kids playing in your yard. No one wants to deal with a lawsuit for negligence.
Wear Helmets That Fit When Playing
Make sure the helmet fits properly and that all straps are secure. It's okay to lose a casual football game. However, a serious injury is not fun for anyone. Keep a close eye on sneaky kids that might try to loosen helmet straps or lose their helmets altogether. After sustaining a head injury, it's best not to play until a doctor gives the green light.
Get Support and More Information
Learn more about brain injury and prevention or get the support you need. Join our community at TryMunity today.