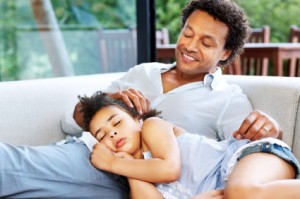 We know how incredibly difficult that caring for a child with a TBI can be. That's why we've provided some tips, listed below, for doing just that:
Help your child feel comfortable with his or her appearance, as best you can. It can be hard for children of any age to undergo a drastic change in their appearance. To help your child feel more comfortable with his or her appearance, encourage them to talk openly with you — if they feel comfortable doing so. On the other hand, if your child does NOT feel comfortable talking about their physicality, that's perfectly fine, too! Take their lead when it comes to discussing physical appearances, and try to make them feel as comfortable as possible.
Focus on the day-to-day. Every day, there will be little successes (and yes, sometimes failures, too). It's important to focus on these successes, however small they may be — the TBI recovery process can be long and difficult, and sometimes, it helps to narrow in on the positive.
Take advantage of your local TBI community and resources. When your child experiences a TBI, it's crucial to get involved with a community that understands what you are going through. By doing so, you'll help your child in ways you can't even imagine — as well as yourself.
Join the TryMunity Community – We're Here for You! Contact Us Today.
Do you have further questions about how to care for your children with TBI? At TryMunity, we provide a vast web of resources and support systems for those afflicted with a traumatic brain injury, or who know of someone who is. Please feel free to contact us with any questions you may have! Join the TryMunity community today, and take advantage of all that we offer. We're always happy to speak with you.