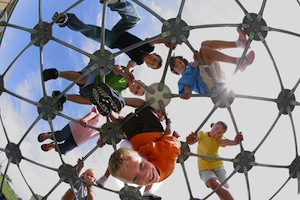 With the warmer weather comes plenty of outdoor activities that the whole family can enjoy. At TryMunity, we know that getting outside is one of the best ways to celebrate the summer season, providing plenty of healthy and relaxing memories for people of all ages. Preparation is key when you want to stay safe outside. Consider the following tips to help prevent injuries that could be caused by having a little bit too much fun.
Pool Safety
The swimming pool is the perfect place to cool off on a hot summer day. Unfortunately, drowning is one of the leading causes of accidental death in small children and slips and falls poolside are common accidents, both of which could cause brain injury. In order to keep kids safe, the American Academy of Pediatrics recommends not enrolling children in swimming lessons until they are four years old. Some important things to consider when at the pool include:
Keep children who do not know how to swim at an arm's length while in the pool.
Use a child-size life vest rather than water wings.
Take a CPR course.
Encouraging children to walk on wet surfaces.
By preparing yourself and your family members, you are more able to help your child should the need arise.
Bike Safety
Many children and adults spend a lot of time during the summer on their bicycles. In order for you and your family to stay safe outside while riding a bike, the essential protective gear should be worn at all times. A helmet can protect against head injuries and should be worn no matter how far you are from home. The right size of helmet and bike can make a big difference on its effectiveness.
ATV Safety
When it comes to outdoor safety, being properly trained can help reduce the chances of injury. If your family enjoys getting out on ATVs throughout the summer, anyone who drives should take a hands-on safety training to ensure complete understanding of the recreational vehicles. Wearing helmets during any ride is an essential tool to prevent traumatic brain injuries.
The TryMunity team invites you to join our community for more tips to stay safe outside this summer.