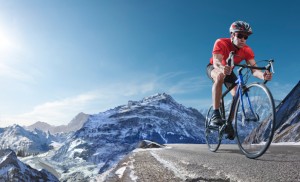 Here at TryMunity we want to do everything we can to not only inform you about traumatic brain injuries, but help you prevent them as well. We encourage you to always wear a helmet when riding on your bike, motorcycle, or engaging in sports where there's the potential of sustaining a head injury. In order to find the perfect helmet, you've got to know your helmet size.
Measure Your Head
The very first thing that you should do is measure your head with a tape measure from right above your eyebrows all the way to the back of your head. Measure your head several times so you know you have the right measurement. Write that measurement down and take it with you when you go shopping for a new helmet. Bear in mind that helmet size can vary from manufacturer to manufacturer. It's not always as easy as grabbing a S, M, L, or XL.
Trying the Helmet On
When you try a helmet on, you'll want to make sure that the bottom of it is actually facing you and that the front is directed downward. Place your thumbs on the inside of the chin straps and use your fingertips to balance the helmet. Next, you'll want to gently spread the sides of the helmet apart and slip it over your head with the straps.
Once you have the helmet on, it should be a snug fit. If it feels a bit too tight, keep moving it around on your head until it feels like a good fit. Remember to always wear your helmet forward and not titled back on your head like a hat.
The Perfect Fit
Once you've found the perfect helmet size, move the helmet around on your head to ensure that it feels good and that it's not too loose, otherwise it might slip off when you need it most. For more information about finding the right helmet and protecting your head, join the TryMunity community today.