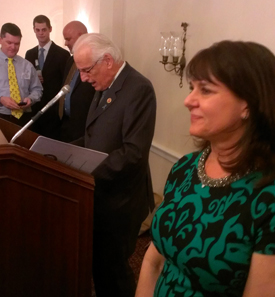 Brain Injury Awareness Day in Washington, D.C. will commence Wednesday, March 13, 2013 on Capitol Hill. TryMunity founders, Tom and Bernadette Coleman, will be on-site as advocates of traumatic brain injury research and potential legislation from Congress.
Congressional Brain Injury Awareness Day, fronted by U.S. Representatives Bill Pascrell, Jr. (D-NJ) and Tom Rooney's (R-FL) Congressional Brain Injury Task Force (CBITF), is an effort to educate members of Congress and generate support for funding research and rehabilitation initiatives. Rep. Rooney joins Rep. Pascrell as co-Chair of the task force this year, founded in 2001, and will be on hand at the Capitol Hill event on Wednesday.
Rep. Pascrell said in a statement on his website last week:
Brain injuries can impact anyone at any time, which reinforces the need for increased advocacy," said Rep. Pascrell. "I am proud to have fought for the last 11 years to protect our athletes on the ball field and our brave soldiers in the battlefield from TBI.  I look forward to working with Rep. Rooney along with my other colleagues on the task force in continuing to raise awareness for this devastating injury while helping to promote research and improve access to rehabilitation and care.
The events of the day will include the yearly awareness fair and a briefing covering the investment of Congress into federal programs supporting TBI and the need for partnerships, both public and private, to advance care for brain injury victims.
Mrs. Coleman is also CEO of Advice Interactive Group, and Internet marketing firm in McKinney, TX. Advice Interactive and Coleman launched TryMunity in 2012 after her son, Michael Black, suffered a traumatic brain injury in 2011. Online support and information on TBI was not easily available for Black and his family. The non-profit organization and service, TryMunity, seeks to increase awareness and provide support for individuals and families who experience TBI by providing an online social community for survivors and supporters to share their story and offer encouragement.