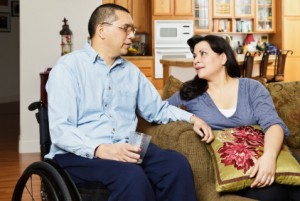 Whether you have suffered a brain injury or had a family member who has sustained a TBI, you know that it can impact every facet of everyday life. Brain injuries can completely devastate the entire family. It is important that those who are caretakers know that they have a right to feel emotional, distressed, and hurt by a brain injury despite them not having it themselves.
Caretaker Stress Is Immense
When you are responsible for the caretaking of someone who has a brain injury, there is a lot of pressure on your shoulders. Depending on the severity of the injury, you may have to do everything for your family member. From memory therapy, physical therapy, meals, hygiene and more. It is important that you acknowledge the stress that goes a long with that responsibility and take the time to care for yourself.
Get Support
Look into support programs through your hospital, church, state-run programs, and private charities to help you through the most difficult times. Schedule respite care for you to get out and have some time to yourself. Connecting with others who are in similar circumstances can help you feel less isolated and alone. TryMunity aims to bring people together who have TBIs or have family members with TBIs. Look into our community to assist you with coping strategies.
Don't Be Afraid to Ask for Help
If you are feeling completely overwhelmed with the new shift your life has taken, it is perfectly ok to ask for help. Ask family members and friends to take on some responsibility or to assist you with daily errands. People want to help; they just may not always know what to do. Let them know what you need and you will be surprised at just how many people care about you and your family.
For more information, resources, and support join our community today. We are here for you!